Seven died. More than 100 are missing. Workers were trapped. Hydropower projects were destroyed, and the Dhauli Ganga river at Joshimath hit a record high.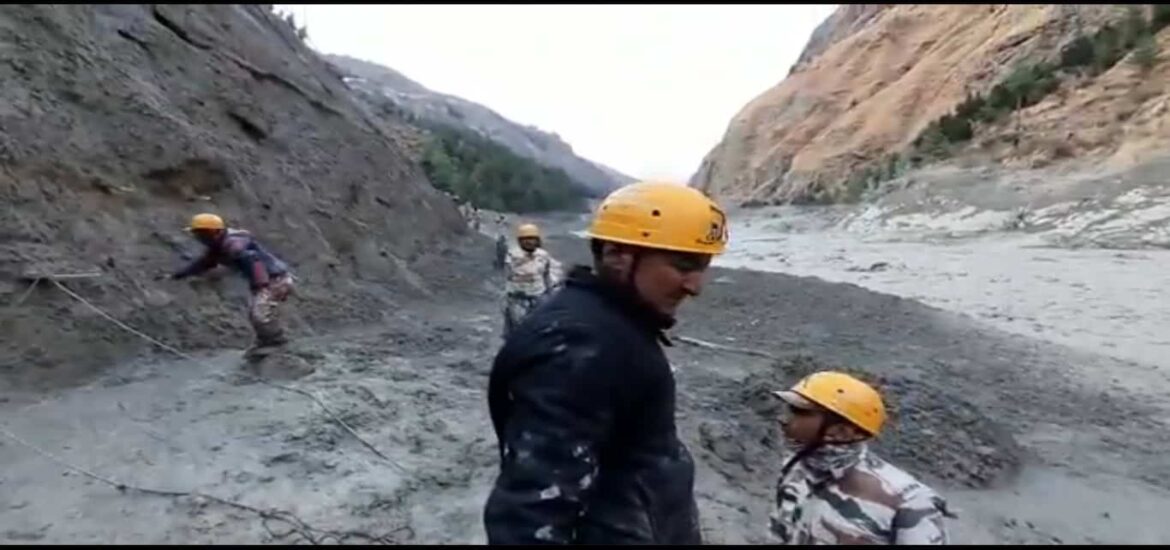 India's glacier disaster shows HKH region's climate challenge
When the Nanda Devi glacier broke apart in extreme northern India on Sunday, it released a wall of water into nearby rivers that destroyed whatever lie in its path. At least seven people were confirmed dead by nightfall, up to 170 people were considered missing, and rescue operations ramped up to save workers who were trapped in a tunnel project at Tapovan when the deluge hit.
The glacier disaster also sparked interest in how climate change affects one of the world's most sensitive ecosystems and contributed to the crisis – one that experts on the Hindu Kush Himalayan (HKH) region have seen before and fear will happen again.
The Nanda Devi mountain in Uttarakhand state is perched near the border with Tibet and roughly 100 kilometers west of Nepal. It's a region of glaciers and lakes prone to Glacial Lake Outburst Flood (GLOF) events that have increased with global warming. When glaciers melt, as they have in the Himalayas for decades at an accelerated pace, the associated lakes and their moraine boundaries can destabilize. The moraine, made up of boulders and other debris from the glacier formation, gives way and the lake waters release.
There are other potential causes, including earthquakes, avalanches and landslides. In fact, Canadian geoscientist Dr. Dan Shugar shared satellite images that suggest a massive, dusty landslide at Tirsuli, a mountain in the Nanda Devi Sanctuary, is the true cause of Sunday's catastrophic flood disaster.
The consequences remain the same. Massive amounts of water rushed into rivers that ultimately feed the mighty Ganges: the Dhauli Ganga, Rishi Ganga and Alaknanda rivers swelled. Local officials said the height of the Dhauli Ganga river at Joshimath set a new record. Two hydropower dam projects were destroyed, including one on the Rishi Ganga; video shared widely on social media showed how structures were no match for the wave, including some homes.
Indian energy provider NTPC, earlier attributing the disaster to an avalanche near Tapovan, said it was working closely with local authorities to support rescue operations at the hydropower construction site. And Trivendra Singh Rawat, the regional minister for Uttarakhand, said those operations continue even as he assured the nation that the situation was under control.
What is not under control, though, is the rise in global temperatures that climate change is bringing to the HKH system. A September report from the International Centre for Integrated Mountain Development (ICIMOD) in neighboring Nepal links the heat, which is disproportionately affecting the HKH nations at high altitude, with the likelihood of more such disasters in the future.
"Increased warming at higher altitudes … has accentuated rapid glacier melt and reduced glacier mass and area, leading to multiple hazards such as floods, avalanches, and GLOFs," said ICIMOD, working in partnership with the United Nations Development Program on the report.
"These pose a significant risk to human settlements and infrastructure. Higher glacier melt will initially increase river flows, but in the long run, a decreased snow/ice mass will reduce the flows." That last piece spells trouble for freshwater sources that affect millions of people who rely on the Ganges as well as the Indus, Mekong,  Irrawaddy and other rivers that arise from the HKH.
The September report identified 47 glacial lakes considered dangerous in Tibet, Nepal and India, primarily with a focus on GLOF risks in Nepal. Climate change is contributing to the problem. Catastrophe has happened before.
Sadly, now it has happened again.