Steeped in a deteriorating drought since January, Spain is taking action to pull its hardest-hit regions back from the brink.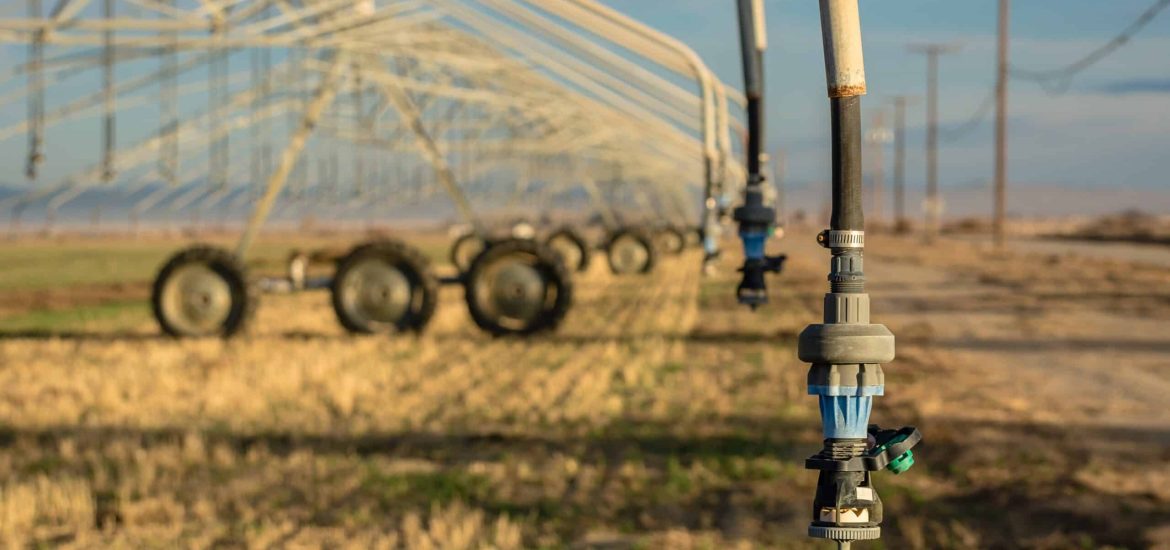 Brussels must show solidarity with farmers in drought-hit southern regions
Steeped in a deteriorating drought since January, Spain is taking action to pull its hardest-hit regions back from the brink. On 11 May, the Spanish government approved a €2.2 billion relief package for its beleaguered agricultural sector, including €1.4 billion for water management interventions and a €784 million state aid boost for farmers.
This lifeline arrives after the Iberian country's driest April on record and heated regional water scarcity disputes, as climate change increasingly menaces Spain and Europe's wider southern region, namely France, Italy and Portugal. Indeed, over one-quarter of the continent was in drought last month, foreboding another punishing agricultural summer.
Brussels must therefore ensure that it bases its upcoming agri-food policies on farmers' ground-level realities and a strong sense of solidarity. Beyond matching Spain's ambitious response and recognising the territorial dimension of climate change's wrath, the EU should seize the opportunity to cultivate political unity as the Ukrainian grain fiasco threatens to create Kremlin-exploitable divisions.
Southern farmers feeling the heat
Explaining the crisis facing Southern Europe's farmers, ecological researcher Sergio Vicente-Serrano has stressed that while drought has long been "a phenomenon characteristic of the Mediterranean climate," recent rain shortages have problematically come "against the backdrop of a noticeable increase in temperature."
In Spain, the drought is scorching 80% of its countryside, slashing rain-dependent cereal yields across 5 million hectares of farmland, while setting the stage for food shortages and price spikes as the farming sector enters the crucial growing period with worryingly low soil moisture and reservoir levels.
This disastrous crop situation spells serious trouble for livestock and dairy farmers as well, as they depend on cereals for animal feed, meaning that these already-vulnerable producers face further rises in feed costs that have been driven up by Ukraine war-driven cereal shortages. Moreover, as the Spanish farmers' association COAG has warned, drought-parched pastures are making it increasingly difficult for farmers to feed their cattle, sheep and goats, mirroring the challenge facing water-stressed Italy and France – and to a lesser extent – Greece, Romania and Bulgaria.
In fact, the pressures facing Spain's milk producers have reached such a point that farmers poured out roughly 400,000 liters of milk earlier this month in protest over decreasing prices, with COAG union leader Marc Xifra decrying the fact that dairy farmers have long been selling their milk to industrial dairy product giants at or below production costs while the latter ramp up consumer prices.
Ill-timed EU food label
As these farmers approach a summer of drought-fueled discontent, Brussels risks adding to their woes with its long-awaited food label. While the European Commission's bloc-wide Front-of-Package (FOP) label proposal was originally slated for late 2022, fierce divisions between member-states have caused an ongoing delay. The French-backed Nutri-Score has been the main bone of contention, with Romania, Italy and the Czech Republic among the most ardent critics of the system's shaky scientific foundations.
Using an algorithm that overly-weighs "negative" ingredients of salt, sugar and fats, neglects the health value of micronutrients and fails to reflect diversity in individual dietary needs, Nutri-Score has often bestowed glowing grades on its 'green A-to-red E' scale for ultra-processed foods like Chocapic cereal while penalising traditional, single-ingredient products, such as French Blue d'Auvergne cheese and Italian prosciutto.
Consequent scientific criticism has elicited a series of algorithmic revisions, with even Nutri-Score's 'father' Serge Hercberg recently conceding that Chocapic's infamous 'green A' was "highly troubling" and "not normal." Yet even in version 3.0, Nutri-Score retains its fundamental flaws, making moderate but insufficient improvements in boosting olive oil from 'C-D' to 'B' while creating new shockers. Milk is the great casualty of the latest update, dropping from 'A' to 'B' and even 'C' for whole milk – the same score as many artificial sweeter-filled soft drinks.
This news has been received with understandable surprise and bemusement by France's dairy sector, with Cniel trade association Director-General Caroline le Poultier deploring that this change risks "leaving consumers with the impression that there has been a reformulation or process change for milk" production. Adding to this confusion, producers' two-year deadline to update labels will create an absurd situation in which unchanged products will temporarily have different Nutri-Scores.
Furthermore, continuous algorithm updates leave agri-food producers in a state of constant financial uncertainty as they grapple with inflation and climate change. 
Unity through climate solidarity
In this turbulent environment, Brussels should mount a solidarity-driven response for the farmers in its southern regions.
As a start, the EU should deliver the emergency Common Agricultural Policy (CAP) and rural development funding support that Spain requested last month to help its farmers through the ongoing crisis. Encouragingly, France has thrown its substantial weight behind this call, with Agriculture Minister Marc Fesneau's determination to "show solidarity in the European institutions" for Spain's plight reflecting his understanding that droughts threaten the entire continent.
While this emergency funding will be crucial in compensating farmers for drought-induced losses and mitigating rising prices, the sector will need a multi-pronged package, incorporating financial and technical support for short-term resilience measures and long-term adaptations. For the former, deploying innovative, tech-driven irrigation methods to optimise water usage while protecting soil health will be paramount, as will water recycling and other demand-slashing interventions.
Yet progress in sustainable irrigation has its limits, with the COAG's head of water and environment Javier Fatas highlighting that these efficiency gains do not constitute a "plan B…for crops that rely on rainwater." Fundamental adaptions in growing will thus be essential, with gene editing, or new genomic techniques (NGTs), offering significant potential to engineer drought-tolerant crop strains. The Commission's impending proposal on relaxing NGT regulations – expected next month – provides a timely chance to give the farming sector a vital long-term lifeline.
Combining these policy interventions would go a long way in relieving the immense pressures facing farmers in Spain and the wider southern region. With bloc-wide unity showing serious signs of wear amid the unfolding Ukrainian grain export saga, Brussels must seize the opportunity to step up for its climate-stressed agricultural producers, rebuild regional trust and send a strong message to those aiming to sow internal division.