Coastal cities across the globe are dealing with land subsidence even as the sea is rising. It may have contributed to Miami's tragedy.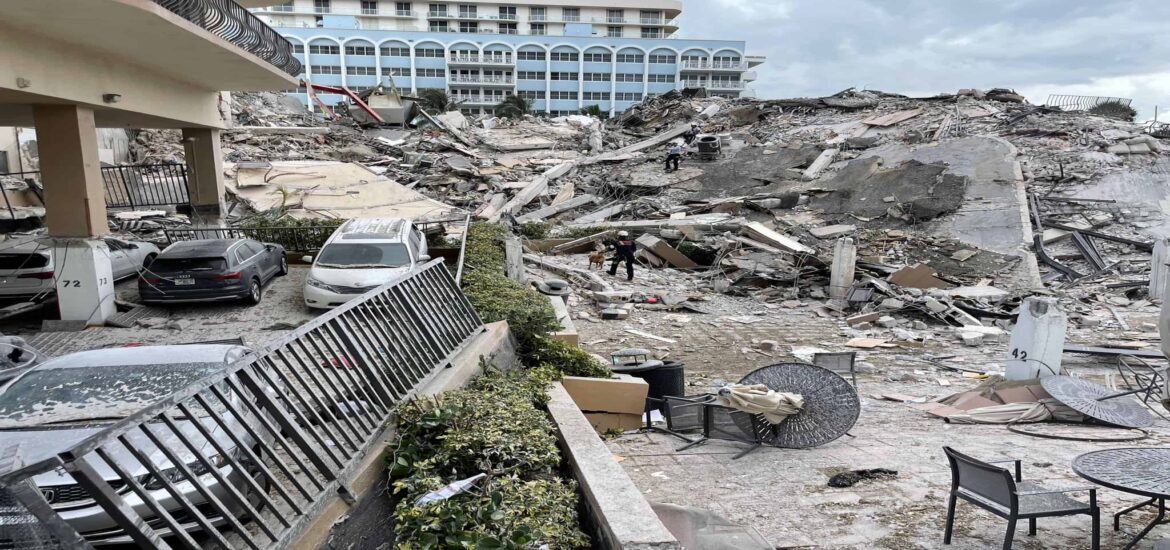 Is there a climate link to Miami's condo catastrophe?
The tragic collapse of an oceanfront condominium near Miami has captured attention across the world, and the search for some 159 people lost in the rubble remains a top priority for rescue crews. But investigators are beginning to look at what caused the catastrophe too, and one possibility may be linked to the changing climate.
The 136-unit Champlain Towers South building housed people from across the globe, including a few dozen from Paraguay, Argentina and other South American nations. It rose 12 stories above the adjacent beach before it crumbled at about 1:30 a.m. Thursday, each floor pancaked atop the next. At least four people were confirmed dead and, after nearly 48 hours, hope was fading for the others.
What has long interested Shimon Wdowinski, though, was what lies beneath the doomed tower.
Wdowinski, a professor at Florida International University's Institute of Environment, studies land subsidence – the sinking or settling of land that happens for a variety of reasons, many of them caused by humans. It's a critical component when researching coastal sea level rise and planning for its effects, because in many urban locations the sea is rising as the ground is sinking.
Parts of Tokyo sank by 4 meters during the 20th century, with 2 meters or more of sinking reported in Shanghai, Bangkok, and New Orleans. Indonesia has planned to move its government center away from Jakarta because parts of the city have lost up to 4 meters since record-keeping began in 1978.
Wdowinski has studied subsidence in Mexico, Israel and other countries, using InSAR imaging and GPS tools to reliably measure the smallest motions over time. But Florida is his home, and he's taken a special interest in Miami's mounting climate challenges, including the frequent "sunny day" flooding associated with increasingly higher tides. Part of Wdowinski's work focuses on how subsidence contributes to the sea level rise problem, especially along a thin strand of barrier island that's been heavily built up over decades.
So when he heard the tragic news that Champlain Towers South had collapsed, he immediately remembered the building because of subsidence measured at the site during the 1990s. The land beneath the tower showed signs of motion as early as 1993, and was something of an outlier in his research because most of the findings for subsidence were in western parts of the Miami Beach area where buildings sit upon reclaimed wetlands.
Wdowinski and his colleagues documented structural damage and other findings because of subsidence, and published their research in journals including Ocean and Coastal Management and PIAHS. In this case, the land beneath the fallen tower showed subsidence of between 1 and 3 millimeters per year during the years of the study, although there may have been changes since and Wdowinski is quick to caution that it's just one factor.
"When we measure subsidence or when we see movement of the buildings, it's worth checking why it happens," Wdowinski said. "We cannot say what is the reason for that from the satellite images but we can say there was movement here."
Other considerations include structural damage to the building's concrete, documented in a 2018 technical report posted to the Town of Surfside website on Friday along with other information about Champlain Towers. The investigation into the cause is likely to take months, even as the rescue and victim recovery efforts progress.
What is certain is that coastal communities across the globe are dealing with an increasing subsidence and sea level rise problem, and Wdowinski's measurement techniques may provide data to help inform their decisions. It's one way to detect at-risk subsidence sites and help prevent future catastrophes.