Over the years more than 200 wildlife rangers in the Virunga National Park have lost their lives in the line of duty.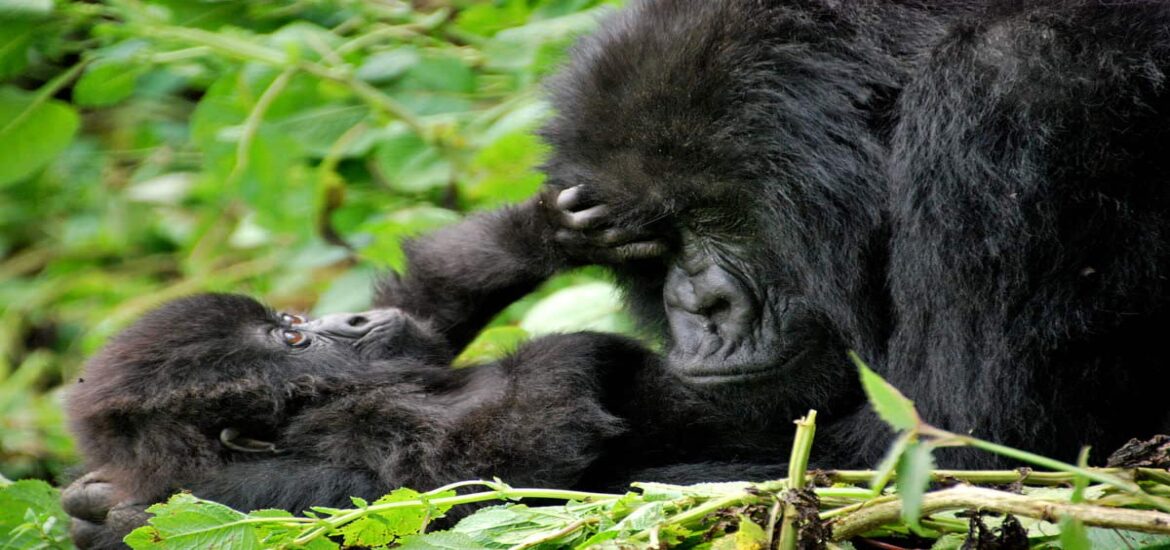 Protecting mountain gorillas in the Congo is no child's play
If you want a success story in conservation, look no further than mountain gorillas in Africa. After being on the verge of extinction for decades, the great apes have recently been removed by the IUCN from the list of critically endangered animals as their population in the wild has been growing steadily.
"Since the discovery of the mountain gorilla subspecies in 1902, its population has endured years of war, hunting, habitat destruction and disease — threats so severe that it was once thought the species might be extinct by the end of the twentieth century," observes the World Wide Fund for Nature.
But survive they have and the reason is intensive collaborative conservation efforts inside habitats like the Virunga National Park in the Democratic Republic of the Congo. "The increase in Mountain Gorilla numbers proves that conservation success is possible even in the most challenging of environments," explains Dirck Byler, director of Great Ape Conservation at Global Wildlife Conservation.
But great challenges remain.
The Virunga National Park is a UNESCO World Heritage Site home to around a third of Africa's mountain gorillas in the wild. The wildlife sanctuary welcomes only a limited number of visitors who seek to spend some magical moment with the gorillas, which are one of the African nation's top tourist attractions.
Yet, some visitors, armed and dangerous, regularly show up uninvited inside the wildlife sanctuary. Rangers tasked with protecting the gorillas in local forests have been doing a stellar job, but they continue facing grave challenges and extreme risks posed by unscrupulous poachers and armed militiamen.
In all, some 700 rangers are employed to patrol and protect 7,800 square kilometers of savannah, woodland and forest-clad mountainsides in Virunga. A decades-long civil war has made their tasks especially challenging in a region where conflicts over land and natural resources between armed groups are commonplace.
Over the years more than 200 wildlife rangers have lost their lives in the line of duty. Recently at least six rangers were killed and several others were wounded by armed men.
"We confirm this sad news. A group of armed men attacked our positions in the region of Nyamitwitwi in the middle of the Virunga National Park," a spokesman for the park told the Reuters news agency.
Nor was it the deadliest attack. Last April a dozen rangers were gunned down in a shocking attack.
"This is not an easy profession. Losing your friends and colleagues is very painful. But we chose to do this, and we know the risks," observed Innocent Mburanumwe, deputy director of the national park.
Despite the threats to their lives and limbs, the park's rangers routinely manage to halt illegal activities, including illegal fishing, farming and poaching. However, most of the 4 million people living in the vicinity of the protected area languish in dire poverty, surviving on subsistence farming, raising livestock and fishing.
There is rich farmland, but a shortage of proper technologies and poor infrastructure continues to blight the lives of local farmers. Poverty limits local people' life choices and many of them feel forced to exploit protected natural resources or join an armed group to survive.
"Decades of war and poverty have forced local people into survival mode," Laura Parker, who works in Virunga, says. "As any of us would, they'll do whatever they have to do to put food on the table, even if for some of them, that means joining an armed group."
While protecting mountain gorillas is a priority, the national park has also been collaborating with local people to improve livelihoods as a crucial part of conservation. An initiative called Virunga Alliance was founded with the aim of reducing endemic poverty and improving the local economy.
Apart from developing local infrastructure and social services, the initiative also creates sustainable economic opportunities accessible to local people.
Ecotourism is seen as a potential growth industry as it can generate income to various local stakeholders though providing private transport, selling handicrafts and engaging in commercial activities. In spite of the constant security risk from armed groups, some 10,000 tourists visit the park a year, earning the country around $4 million.
However, since the start of the global COVID-19 pandemic last March, the protected area has been closed off to tourism in order to prevent the spread of the coronavirus among people, who might pass it on to the great apes. Likewise, rangers have to minimize their presence in the field to mitigate the risk of COVID-19 transmission to wildlife.
A collapse of domestic tourism has depressed local incomes, leaving many people suddenly jobless. To survive, many people have returned to seeking to exploit natural resources as an alternative. As a result, poaching in the area is becoming an even greater problem.
The gorillas are usually not primary targets for most poachers, but their snares pose great risks to the great apes as they can end up maiming or even killing the placid giants.
"There has been an increase in the number of people going into the forest to lay those snares," said Emmanuel De Merode, director of Virunga National Park.