Tons of discarded fire hose used to fight California wildfires are used to make products and keep materials out of the landfill.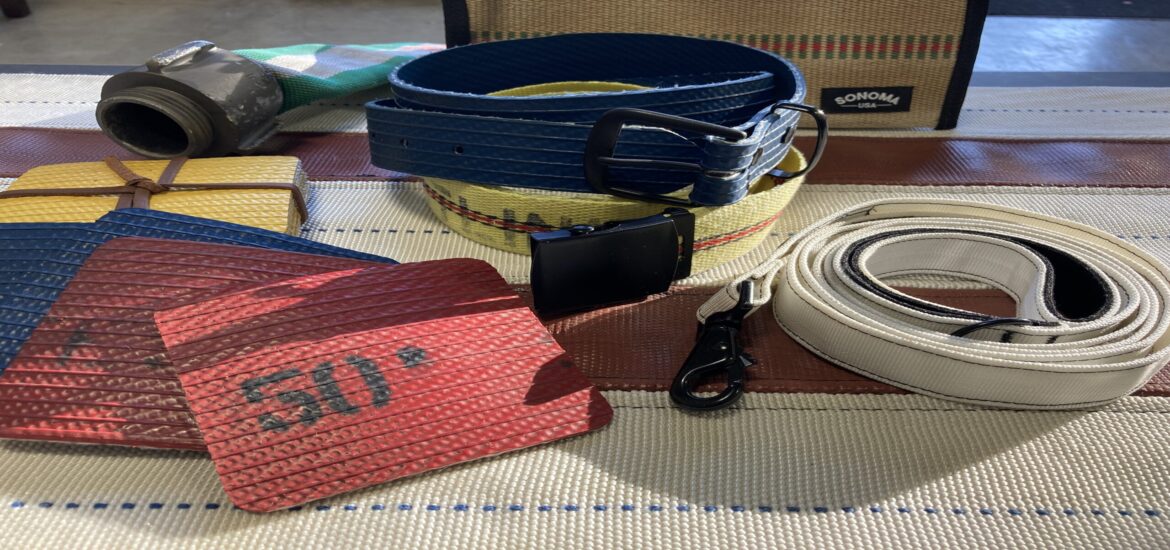 California firm upcycles fire hoses used in fighting wildfires
Wildfires have raised the alarm over climate change from Australia to Siberia and the United States, but one entrepreneur in the U.S. state of California is finding a way for some good to come from catastrophe.
Stephen Kuehr is the head of TekTailor, a company based in the city of Santa Rosa. It's one of the communities that's been hardest hit by the record-setting fires in California in recent years, but also where Kuehr keeps an operation committed to sustainable sewing and textile manufacturing. The company recycles waste materials like grain and feed bags, old billboards and banners, leather and fabrics.
Kuehr realized that there were tons of fire hoses discarded following the massive 2019 and 2020 blazes in the wine country counties of Napa and Sonoma. They can't be reused once they're damaged and they were headed to the landfill.
So TekTailor partnered with Recology Sonoma Marin, a regional waste management firm committed to sustainability, to recover the fire hose materials. All told, there were 7,700 pounds of fire hose available for Kuehr and his company – there are 12 employees and 60 sewing machines – to fashion into other products.
There are now seven different kinds of items made from the old fire hoses. The repurposed fire hose material makes a great dog leash, while there also are welcome mats, several styles of men's and women's belts, and drink coasters and keychains.
"Fire hose is a highly durable material with a truly heroic past," the company says. "With every purchase we give back a percentage to our local firefighters who have been working so tirelessly and selflessly to protect our lives, homes and community."
Kuehr sees the company giving back much more, in terms of reducing the amount of waste in the world.
"Our society is a single-use, throwaway society," he explains. "And we throw away quite a bit of stuff." While the U.S. accounts for roughly 5 percent of the planet's population, Americans are disproportionately responsible for some 30 percent of the world's waste.  "Something has to change," Kuehr adds.
Besides the reclaimed fire hose, TekTailor partners with a number of local businesses in order to divert materials away from the landfill and transform them into the upcycled new products. It's a mission welcomed by Recology.
"Steffen opened my eyes to all the reuses instead of burying (the hoses). It has awesome markings," said Recology head Fred Stemmler in a recent interview with local media.
"Our company's focus is on zero waste even though we are a garbage company," he adds. "I wish more people were thinking like (Kuehr) and making goods with resources that we think of as trash today."