Hawaiian conservationists say rediscovery of Delissea is a message of hope amid the loss of species, forest, and sacred indigenous spaces.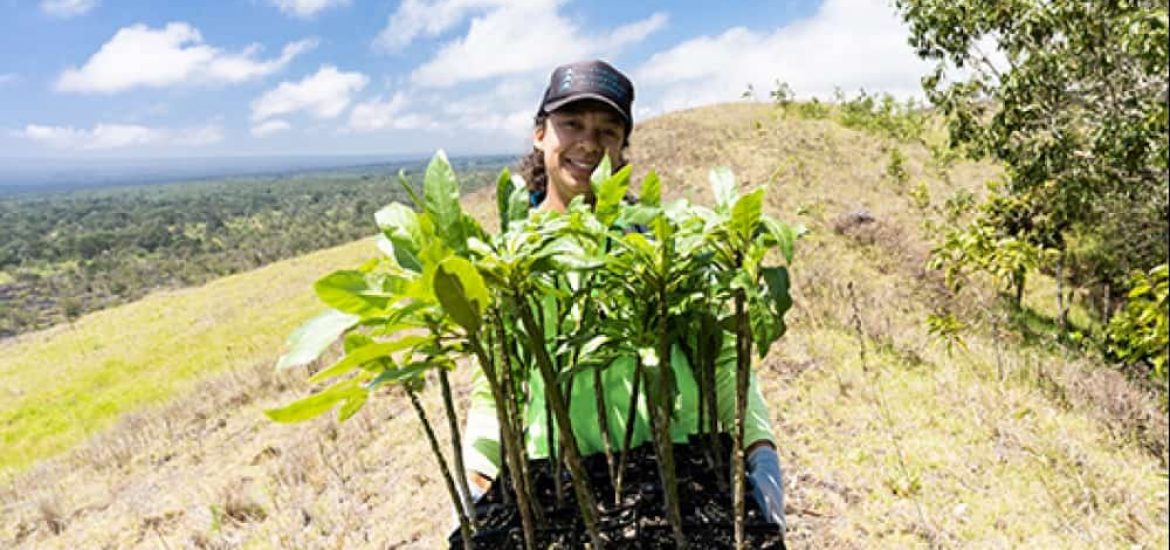 Hawaiian plant, thought extinct, now thrives at secret site
An exciting find in Hawaii is bringing renewed hope that a plant species once thought extinct in the wild, but now under careful cultivation in a secret location, will spark continued efforts to protect biodiversity on the islands.
The flowering Delissea argutidentata plant, native to Hawaii, was last seen growing in and around a volcano crater in the 1970s. It was once common to find them growing in the shade of giant koa trees and along the slopes of old volcanoes, but notes from a 50-year-old plant pressing available to researchers said there were only three plants remaining and no regeneration, likely because of land use for grazing cattle.
In 1992, a single plant was found in the Puʻu Waʻawaʻa forest reserve but it died in 2002. Some seeds were saved to continue growing the Delissea, a palm-like tree with top-cluster flowers that can grow to 10 meters.
Until last year, there were no additional sightings and it was thought to have gone extinct in the wild. But in March 2021, when the plant was found on land now owned by the Kamehameha Schools district, quick action was taken to protect the species. Partners from the state's Department of Land and Natural Resources (DLNR) and Three Mountain Alliance (TMA) conservationists helped to identify and protect the plant.
Now there are 30 healthy plants growing from seeds that were saved from the newly discovered one. They're growing in a location that's being kept a secret, in order to help Delissea thrive and again take hold in the wild without public attention.
"Rediscovery of Delissea is such an important message of hope," said TMA coordinator Colleen Cole. "In Hawaii, there is often much focus on loss – loss of species, forest, sacred places – and maybe that is human nature but the Delissea reminds us to always nurture and make room for hope and discovery."
The TMA staff member who first found the plant was collecting seeds from other species, planning to use them for a different restoration project. The Delissea was found growing on the dead stump of a Sophora chrysophylla (māmane, in Hawaiian), a flowering shrub-sized tree. It looked like three separate plants next to an old, fenced area used by a previous tenant.
"Within the enclosure, the remains of a larger individual plant were visible," said the organizations in a joint press release issued this week. "Over the past year, staff from all three organizations have taken actions to protect the small population of plants and to safekeep its genetics."
Of the 16 recognized species of Delissea, 14 are extinct and the remaining two are endangered. The rediscovery of Delissea argutidentata has brought elation over its survival but also underscores the need for partnerships when protecting biodiversity.
"Kamehameha Schools has been successful at stewarding native ecosystems as a whole but what's really exciting is that this is the first step toward a much bigger focus on rare species recovery," said Amber Nāmaka Whitehead, the school district's own senior natural resources manager.
"We need both – healthy native ecosystems and every one of our rare species. They are critically important to our Hawaiian cultural identity and our health and well-being as a people."